Healthy building and living with HT-coated tiles
As we are spending 90 % of our lifetime in rooms (source: Sentinel Haus Institut 2014), it is important to be able to rely on a healthy living environment.
The major part of the AGROB BUCHTAL product range is provided with the HT (Hydrophilic Tiles) coating and thus makes an essential contribution to healthy living.
■ HT inhibits the growth of fungi, bacteria and other microorganisms
■ HT makes the cleaning of the surface easier
■ HT helps to decompose air pollutants such as formaldehyde and odours in interior rooms
And all that solely thanks to the effect of light!
The obligation with regard to energy-efficient building has led to an increasing tightness of the building shells in the last years,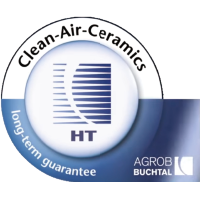 o that it is more difficult for odours and pollutants to get outside than in the past.
Therefore, it is important at the planning and execution of interior rooms to avoid substances harmful to health and to make an intelligent choice of the materials used in the interior.
However, not only the building materials themselves may contribute to the pollution of the indoor air.
Floor coverings, laying materials and furniture can also cause increasing concentrations of volatile organic compounds (VOC) in hermetically sealed buildings.
With HT, architects and planners counteract these secondary effects.